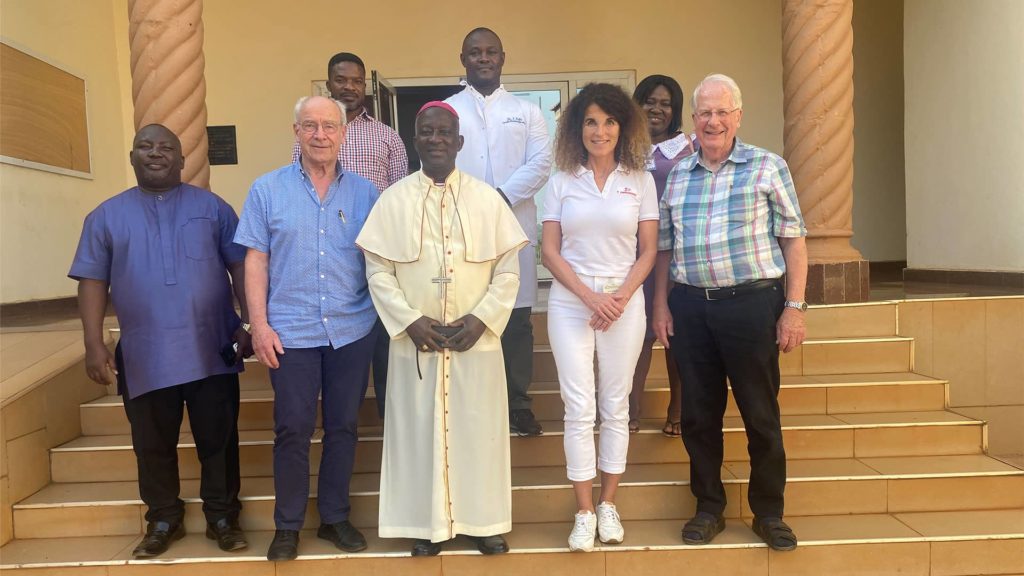 As part of a broader cooperation between Medical Support in Partnership (MSIP) and Holy Family Hospital (HFH), Techiman, and, in line with the objective of establishing a Laparoscopy Center in HFH, Techiman, we welcomed Gynecologists and Nurses from MSIP in February, 2023.
Together, we had a very successful clinical and interventional laparoscopy experience. A total of fourteen gynecological laparoscopy operations were performed. The indications included pelvic endometriosis, tubal pregnancy, uterine fibroids, hydrosalpinges and pelvic adhesions,
On 03.02.2023, we performed two laparoscopic operations under the supervision and guidance of Dr. Kirsten Graubner.
From 06.02.2023 to 11.02.2023, the team of doctors and perioperative nurses from Holy Family hospital, Techiman received lectures and training from a MSIP team of instructors led by Dr. Robert Theiss. The other member of the team of instructors were Daniela Halbritter (surgical and sterilisation nurse), Jumi Zimmer (surgical nurse). We performed twelve laparoscopic operations within this period.
Our perioperative nurses also received instructions and training in regard to:
Operating room set up for laparoscopic surgery
Receiving patients prior to laparoscopic surgery
Laparoscopic instrument handling
Patient positioning for laparoscopic surgery
Instrument processing and sterilization
Transfer of post-operative patients to recovery ward
The doctors also participated in:
Case discussions
Basic laparoscopic suturing techniques
Transvaginal ultrasound diagnosis
Principles and standards in endoscopic interventions
Therapy concepts for individual clinical pictures
Planning of complex interventions, for example for endometriosis.

 
A SWOT analysis of the recent MSIP visit to HFH, Techiman in February, 2023 and our objective to set up a laparoscopy center should help contextually explain our prospects, challenges and needs.
Strengths
Our major strenght is the fact that we have a team of well-motivated gynecologists and perioperative nurses who are willing to learn and improve their skill in regard to interventional gynecological endoscopy. We also have a cooperation with and organisation like MSIP that is willing to collaborate with us in terms of a comprehensive capacity building (of doctors and perioperative nurses), and the provision of essential equipment. If the efforts of MSIP to coordinate with other groups and institutions in Germany and Austria is successful we could have at least four Gynecological endoscopy visits to HFH, Techiman every year. Therefore, we should aim for four laparoscopy visits/training sessions (one every quater) per year for the next 2 years.
Weaknesses
Our major weaknesses is the fact that currently we do not have some of the critically essential instruments and equipment needed for training and also for actual operative surgery. Examples of such critical equipment required for training and interventional procedures include a laparotrainer, morcelator and Hohl uterine manipulator, just to name a few. The laparoscopic instruments used for the recent training were quite detailed and top range borrowed from KARL STORZ. However, these instruments need to be need to be returned. Thankfully we should receive our own instruments from STORZ (although not as detailed as the ones used for the training) in the next few weeks. This is important because we need to keep to minimum the lag phase between the training we receive from the instructors and the operations we perform on our own when training is over.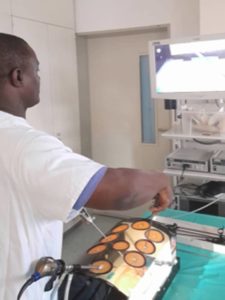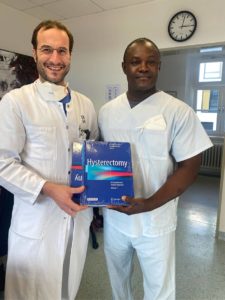 We have never performed hysteroscopic procedures in HFH, Techiman owing to the fact that we do not have diagnostic or operative hysteroscopy instruments. If we want to be a training center for gynecological endoscopy then it is logical that we have the capacity to perform hysterolaparoscopy. We would therefore be grateful if we could kindly be provided with hysteroscopy set up.
Opportunities
The opportunity really exisits for us to acheive the ultimate aim of becoming a training center for gynecological endoscopy because there is no facility north of Kumasi that even offers basic laparoscopy services. We have the difficult and yet unique position of pioneers, and for that matter we can set the pace and the standards in terms of protocols for interventional laparoscopy in the northern half of Ghana. Even more importantly we have a pivotal role to play in terms of making it easier, the learning of gynecological endoscopy by doctors and nurses, and access to gynecological endoscopy services by the population. If it fits into the vision of MSIP, we would suggest that the for training purposes the building of a dedicated structure with spaces for training equipment, conferencing and perhaps office space be seriously considered.
Since MSIP already has a collaboration with KARL STORZ, we would also recommend that our Biomedical Engineers be offered some training in the maintenace, troubleshooting, repair and even installation of the components of a KARL STORZ laparoscopy tower. The downtime of our equipment will be minimum and our efficiency should be optimum if we have resident biomedical engineer who has expertise in STORZ equipment.
Threats
As things stand now, the only threat we have can only come from ourselves and that threat is called complacency. No facility north of Kumasi currently has the level of expertise (doctors and nurses), training, technical knowledge and equipment that we have. Currently, we do not have a competitor in terms of where we are now with gynecological endoscopy and where we want be in regard to the objective of building our capacity enough to establish a training center for for doctors and perioperative nurses as well. It is therefore important that apart from the suggested minimum of four Gynecological endoscopy visits, we also constantly strive to improve the spectrum and complexity of gyne endoscopy interventions we perform.
Conclusion
To conclude this report, we would like to say that we cherish and appreciate the efforts and commitment of MSIP to the establishment of a laparoscopy center in HFH, Techiman. Hopefully, in a few years we should be able to look back on this project with a sense of utmost fulfillment.